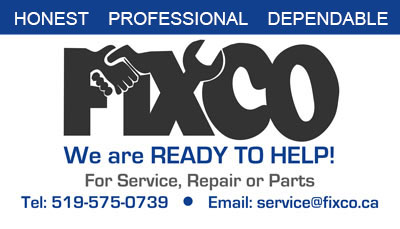 Give Us A Call
519-575-0739
Fixco Your Best Choice
For Everything Exercise Equipment.
Fully Insured
Fully insured to protect the consumer.
Flexible Options
On-Site Assembly, removal, repair of your exercise equipment.
Our Story
Fixco is a Manufacturer Authorized independent service company that provides prompt professional repairs by Certified and Factory trained technicians, preventive maintenance and parts to the fitness equipment owners and fitness industry in the community. We service customers in Waterloo Region and Greater Southwestern Ontario geographic area.
Residential & Commercial
We handle most major brands and proudly serve the needs of residential consumers, commercial, corporate, institutional, and government agencies. We offer over 20 years of experience and several decades of industry knowledge as we look forward to helping provide your with solutions, repair your equipment, or provide professional and sound advice.
Philosophy & How We Do Things
Our Philosophy
My philosophy in life and in business has always been do unto others as you would have done unto yourself. With that in mind I strive to promote and implement the following:
Conduct business in a fair and ethical manner
Only provide customers the service and parts that are absolutely necessary
Advise customers as to the most cost effective means by which to fix their specific problem
Provide information, instruction, and advice to customers which will help them maintain their equipment in good working order and avoid unnecessary breakdown and costly services call charges or replacement parts
Our goal is treat people as fairly as possible, keeping your equipment operating safely, properly, and performing as it was designed to.
Grow our business through customer referrals by providing dependable, professional and courteous service.
Directly or indirectly and in some capacity, Fixco as been involved in servicing the Fitness and Exercise industry since about 1995.
Our History, Experience & Credibility
In July of 1996 as the co-owner of Instant Replay Sports in Waterloo, my brother and I successfully placed a winning bid to acquire 53 tractor trailer loads of warranty returns, refurbished, damaged, etc, treadmills, elliptical trainers, exercise bikes, and assorted fitness equipment from Herman's World of Sporting Goods in Carteret, New Jersey. (Herman's filed for Chapter 11 protection for its 117 stores along the Eastern U.S.A Seaboard at the time and were liquidating their main distribution warehouse)
As a result of this acquisition, we leased the old Dutch Boy Distribution warehouse (40,000 sqft) for a period for one year fixing the equipment for resale. We sold through our own retail store on Lodge as well as wholesaled to customers like Cycle Path, Fitness Direct, and assorted in Independent Exercise retailer.
1998 Became a Body Solid exclusive dealer for the greater Waterloo region
1999 A credited as a Body Solid Authorized Warranty repair Depot for Waterloo Region and Surrounding areas
Maintained service, repairs and after warranty support for Instant Replay / SportZone's  Body Solid customer base – CURRENT
2014 Fixco was awarded the Authorized Warranty Repair designation for both Icon Canada and Johnson Health tech brands of exercise equipment – to Current
This experience over the years, affords us the professionalism and confidence to provide our fitness clients with dependable service and advice to assist in resolving their problems and fixing their equipment.